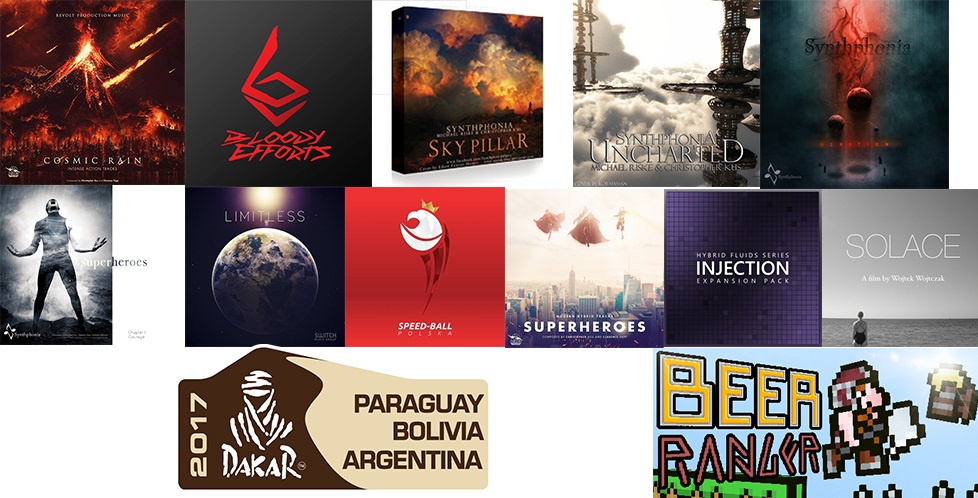 Krzysztof started his music career in 2006 as a Trance Music Producer. He released many dance and trance tracks as a Cr!s. Now he is known as a Synthphonia. His Epic Music tracks are filled with emotions and power, but also you can feel big respect for music and his love to music. He loves writes Epic Adventure tracks with fast-acted string lines, energetic brass sections and of course powerful drums. Also he's feeling great with writing romantic Piano tracks, where he gives to the listener tons of his personal emotions.
You can listen his official Soundcloud Channel Here:
Beer Ranger Video Game – Main Theme
Champions of Nexum OST – Dr Precarious Theme – Krzysztof as a one of the first composer in a world is scoring board game "Champions of Nexum"
Speed-Ball Polish Championship Main Theme – in 2017 Krzysztof wrote an anthem for Speed-Ball Polish Championship
Solace Movie – Credit Theme – "Solace" is a drama movie directed by Wojciech Wojtczak. Krzysztof Kus wrote this emotional piece for credits. He also scores whole movie with Sławomir Zając.
Hybrid Sounds – Injection Library – Krzysztof was asked by Hybrid Sounds for making a demonstration track of his sounds library "Injection"
Cosmic Rain – Album teaser – An album composed by Krzysztof Kus and Clarence Yapp, released in Revolt Production Music
Superheroes – Album teaser – An album composed by Krzysztof Kus and Clarence Yapp contains epic themes for superhero Hollywood movies, released in Revolt Production Music
Speed-Ball World Championship Main Theme – Krzysztof composed opening anthem for first World Championship in Speed-Ball
"Heroes" from album Limitless – released in Switch Music Group
Composers for Relief : Supporting Philippines – Krzysztof and Monika Emat composed an opening anthem for a charity album.
FILMS and Media Campaigns:
48HFP 2017 – "Hantla" Short Movie
Speed Ball World Championship Media Campaign
Solace – The Movie